It's a new work week at Garber Management Group. Every day, Robert Norcross wears his typical uniform.
Dress pants. Sometimes black. Other times navy. His collared shirts are often patterned: florals, polka dots, plaid. Typically accessorized with a tie. Always a watch on the wrist.
Robert's more business, less casual outfit choices are second nature now. Back in the day before Garber though, his attire was strategic.
See, when Robert was a budding teenage entrepreneur, he needed to make a mature impression on his clientele, who were much older than him.
"When I started my website design business back when I was 19 years old, I would often meet with business owners, who were usually 50 or 60 years old," Robert explained. "It was hard to get them to take me seriously. Dressing nice and wearing suits helped."
Nowadays, Robert doesn't have to worry about being considered a seasoned professional. As the website marketing manager at Garber Management Group in Saginaw, Michigan, Robert is responsible for all things web design. His passion and talent speak for themselves.
Still, the ties and dress pants and collared shirts…? Those have stuck.   
An Entrepreneurial Spirit
Years before he started his own web design business or began his career with Garber, Robert showed signs of a business savvy mindset.
"I was 10 years old when my friend and I started a lawn mowing business, but we charged $5 for two people to come mow your lawn, so it wasn't exactly the most profitable," he laughed.
Though he had an entrepreneurial spirit, Robert didn't pursue the "family business."
"I come from a long line of preachers: my dad is a preacher, my grandpa was a preacher, my great grandpa was a preacher…there's about 8 to 10 members of my family that have been in this family business," he said. "But there was zero expectation for me to become a preacher."
Instead, he found a different type of passion: design. It became the key to unlocking the doors lining his career pathway.
Where Business Meets Design
Robert discovered his love for design in high school.
"I loved art classes a ton. Then, I took a desktop publishing class and designed yearbook stuff and samples of logos," he explained. "I LOVED it. The class went by so fast. It really sparked my interest in design. I was naturally good at it, and I enjoyed it. It became my ultimate passion."
While he loved design, he didn't see a clear career path that would allow him stability and financial independence. He decided to study marketing at Baker College.
Then Robert – an 18-year-old at the time – got a request that changed the trajectory of his professional life.
"The brother of a friend of mine owned a collision repair company," Robert explained. "He said to me, 'Hey, you're good with computers. Do you think you could design a website for me?'
"I told him, 'I've never designed a website before…but I bet I could figure it out.'"
Robert designed a second site for the restaurant he worked for. With their positive feedback adding confidence to his capabilities, he decided to start an actual web design business.
To begin his start-up, he borrowed $1,000 from a friend to buy a better computer.
"After I got that $1,000 loan, I registered my company and made a legit LLC for designing websites," he said.
The company name? Web Centre.
"I loved running the business and designing sites," he said. "I didn't even care if it was going to be my full-time profession."
Robert decided to make the move out of his hometown of Sandusky and follow his family to nearby Lapeer: a city double the size. That's when Robert's world –and clientele base— burst wide open.
"All of a sudden, I had two employees and over 50 businesses as clients," he said. "I was paying my bills and seeing success."
Life was good. Business was booming. Robert wasn't looking to add a new career to his plate.
But a new career path was looking for him.
When Opportunity Knocks…
In 2014, Robert went to Midland for an entrepreneurial meet-up/incubator event. Ryan Everson, Garber Management Group's digital marketing director, was there.
"He was sitting in the back of the room, listening to presentations but still typing away on a laptop – looking like a mad genius," Robert laughed. "I went over there and we talked a bit about websites."
The two hit it off, comparing notes about web design and exchanging ideas for the RightWay website that Ryan was designing. But that wasn't the only time the pair's paths would cross. 
Fast forward two years later.
"In 2016, Ryan reached out to me and said, 'Hey, I'm looking to start a digital marketing team at Garber and I'd like you to be a part of it,'" he said. "We had four meetings, and I said to Ryan, 'How could you expect me to do this?' I am happy. I have a successful company.'"
Ryan painted a picture that Robert couldn't ignore: a picture of growth and opportunity at Garber. He explained to Robert how Garber is a company led by Dick Garber, who has forward-thinking vision and a humble, philanthropic spirit. That leadership and attitude is shared and reflected throughout the entire company.
And Robert would not just be a part of the digital marketing team..he would help build it from the ground up. 
"Ryan wanted to bring me along for the ride from the start and help build the digital marketing team," Robert said. "Who and what our digital marketing team is today is what he pitched to me back then. He explained how we'd grow and become an in-house type of agency for our 60 dealerships. That was meaningful to me, because no matter how much I grow my own web design company, I can't compete with something THIS big of an opportunity. We would be like a digital marketing company specifically for a huge, successful client: Garber. There was no bigger challenge I could have. Most people won't ever get a shot at something this big, so I had to take the opportunity."
Garber's leadership and reputation also spoke volumes.
"I really respected Ryan's vision for the digital marketing team, plus Mr. Garber is one of the best leaders I've ever met: successful, very humble, and huge on helping support the community," Robert explained. "I also value that same humble approach and love giving back to the community, so our values aligned, which made the decision even easier."
In 2016, Robert officially joined the Garber Management Group's digital marketing team. In his role, Robert has designed such sites as the Garber Careers website (which you are reading this article on), the Saginaw Spirit shop, and all of our dealership websites.
He said he made the right decision to go Garber.
"I don't think people really realize how great our digital marketing team is," he said. "I've been in the industry a long time, so I've crossed paths with a lot of digital marketing companies, and there's not even close to this much talent at those agencies as there is on our digital team at Garber. That's what makes me want to be a part of it and to see it grow even further. If you get a chance to play in the NBA, you're not going to say no. And this team  – for our industry – is the big leagues. Working as part of this team is the biggest opportunity. We have such an amazing team."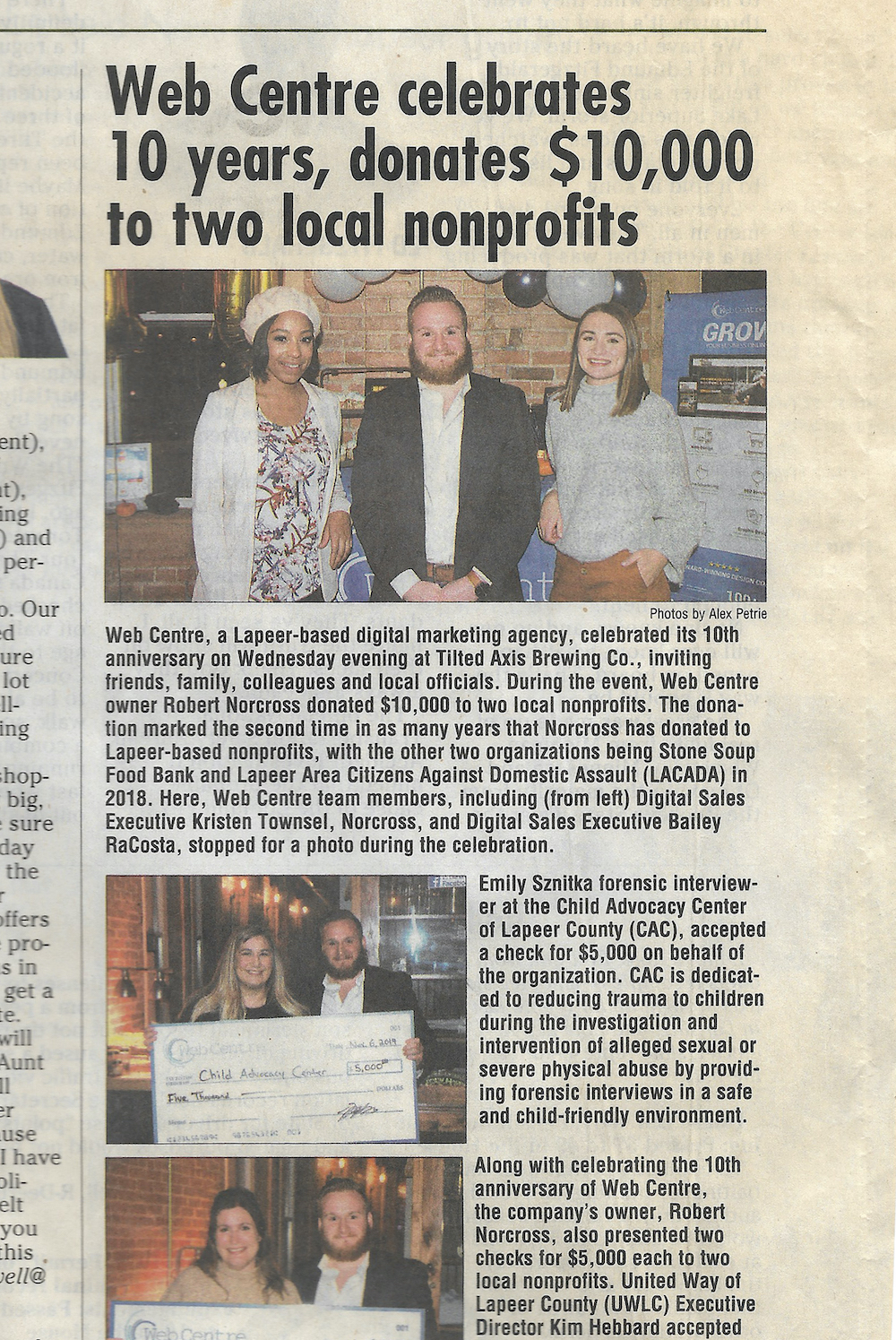 As for Web Centre? 
Robert still runs his business on the side with the help of his great Web Centre team. Since its start in 2009, Web Centre has thrived and grown every single year it's been in business. With a community-focused mindset, Robert has led Web Centre to donate $30,000 to local nonprofits and charitable causes since 2017.
"Giving back to the community is very important to me," he said. "I also love that about Garber…how involved we are in the community."
But his attention isn't divided between Garber and Web Centre. If anything, it's a symbiotic relationship where both help each other. 
"Because of my involvement in my web design business, I'm able to stay really up-to-date with the industry trends and design," he said. "I'm not doing two things; I'm doing one thing – web design – in two places. At my core, I'm a web designer. I can take that knowledge and bring it to Garber every day. It's a win-win. It all helps Garber."
Since starting his business and working for Garber, Robert has designed 497 websites (and counting!). He said working at Garber continues to help him grow as a designer. 
"Working at Garber has pushed my skill level to the absolute max," he said. "Everyone is extremely talented on our team, so it pushes you to the next level, too. I've become so much better since working here. My standards are so much higher. I've grown in leaps and bounds. I just needed the right environment, and Garber is it."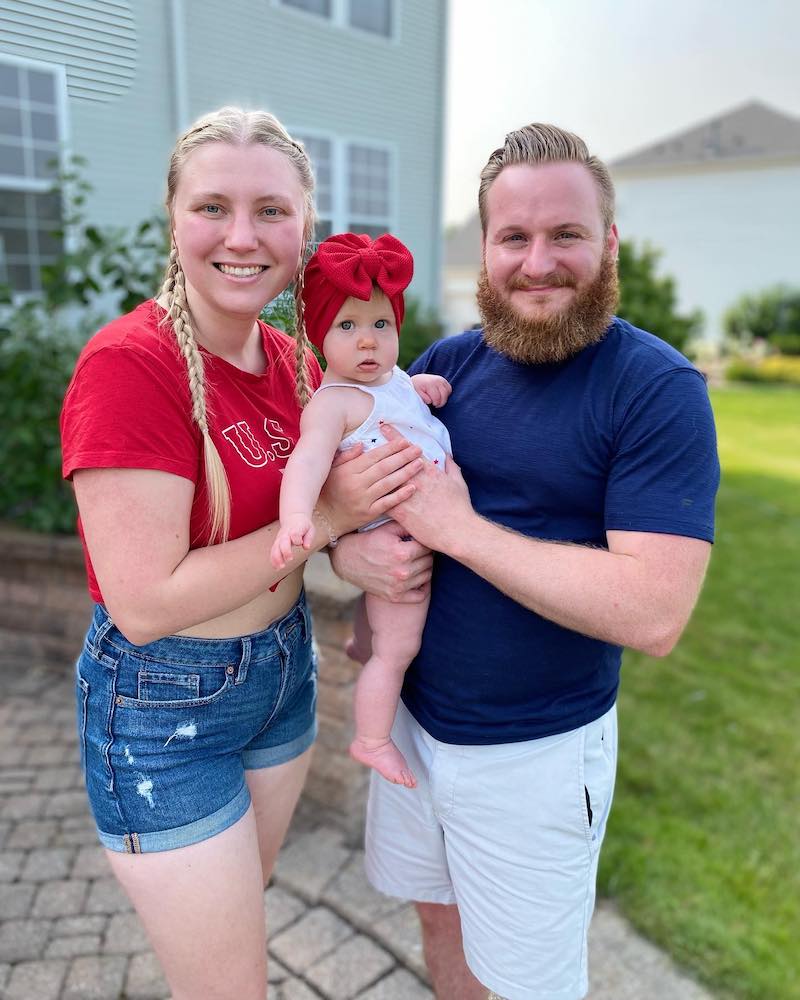 FAST FIVE

First car? 1999 Dodge Stratus

Something people would be surprised to know about you? I was the treasurer for my dad's church. Also, I am the first male in my family to be born in America. My grandpa is from Scotland. My dad was born in Canada and is a dual citizen.

What are three things you can't live without? Designing, Alicia (my wife), Penny (our 11-month-old daughter)

Favorite animal? My labradoodle, Kit.

Best advice you've ever received? "Do what you love and the money will follow." My math teacher told me that, and it's stayed with me.