"Home is Where the Heart Is"
There's a book housed in the offices at Garber Management Group.
It sits on a shelf in a gray cabinet. With a black leather cover and thick pages, the book is hefty: both in weight, and in memories.  
This book was created as a keepsake in 1957 to commemorate our founder Guy S. Garber's 50th anniversary as a Buick distributor. Photographs from an anniversary dinner hosted at the Bancroft in Saginaw fill the pages, along with letters of appreciation from Guy Garber's colleagues, local organizations, family and friends.
That year, Guy Garber received many letters from Saginaw community leaders and organizations. Each letter painted a colorful picture of his philanthropic spirit:
"Saginaw is very proud of your achievements in the business world, but especially your civic endeavors."
"You have devoted much of your time during your business life to the unselfish service of your fellow citizens, and your active interest, guidance and financial support of the Saginaw Crippled Children's Society, a Community Chest Agency, have brought relief, comfort and hope to many children."
"Among your countless contributions to the civic, social and economic life of our Community are your years of service to the Saginaw Chamber of Commerce as Director from 1920 to 1947 and as President during the years 1926 to 1927, during which time your broad vision and wise counsel account for many of the blessings which the citizens of Saginaw now enjoy and pride themselves upon."
"As a community leader, you were very active in consolidating the East Side and West Side schools. Not only were you an influential enthusiast in the physical development of the city, but your humanitarian interests made you the father of the city today."
Clearly, Guy Garber was more than a businessman and leader in the automotive industry. He was a philanthropist who was passionate about his community.
He did not want individual credit. He didn't need an award or public recognition. He just wanted to make a difference. Plain and simple.
While Guy Garber's business mind was savvy, his community spirit was significant. It is a legacy that lives on to this day.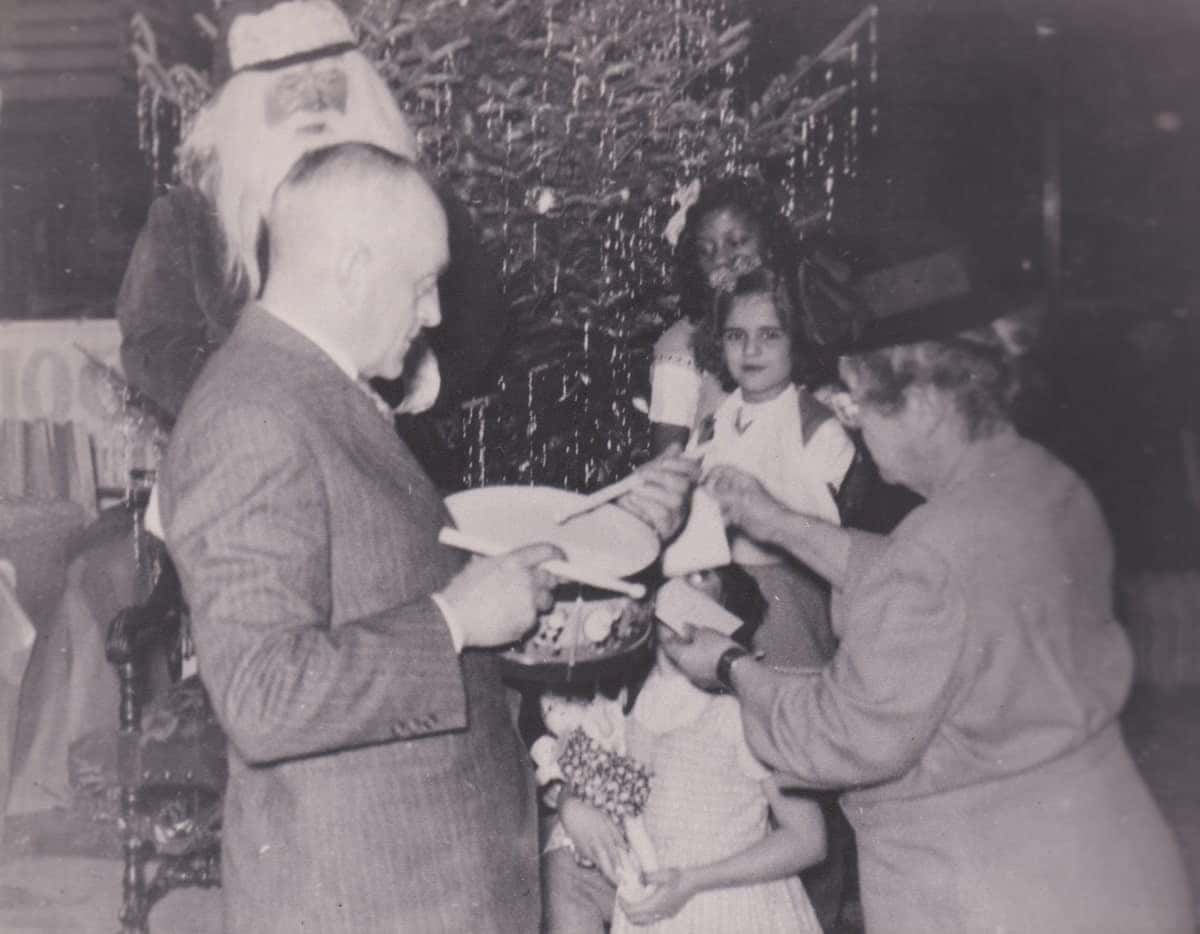 Guy S. Garber at the Saginaw Society for Crippled Children Christmas party
Giving Back
As we shared in Chapter 1 of this series, Guy S. Garber came from humble beginnings.
In a past interview, Guy Garber's son Guy "Ike" Garber credited his father's upbringing as to why he had such a giving spirit.
"My dad did a lot of charitable things," he said. "He started out pretty poor, so later in life, any place he could help, he would help them. He was a wonderful person that way."
Guy Garber was one of the founders of Saginaw's original United Way. He also was an active member of the Saginaw City School board.
One of his passion projects and key contributions to the community was the development of the Saginaw Society for Crippled Children.
Helena Gibson, who helped lead the Society, wrote in a letter to Guy Garber in 1957:
"During the 32 years when I was engaged in this work, I learned to know and appreciate you, Mr. Garber, as the children's 'Fairy Godfather'. Through your many benevolences and personal gifts, you have made it possible for countless afflicted children to approach normal living."
For more than 30 years, Mr. Garber served as president of the Society. He was an active and generous president who thought of creative ways to give the children fun memories to last a lifetime.
In the summer, Guy Garber gave the Society a summer home in Linwood so the children could make classic Michigan summer memories. In the winter, he shut down business for a day and hosted an annual Christmas party in the automobile showroom for the children, complete with a visit from Santa Claus.
"I have seen your guiding influence in the camp at Linwood; the transportation of children to school and the Clinic when no other transportation was provided, a Christmas party for those who may not have had one otherwise; and many times, food and clothing when it was most needed," Helena praised Mr. Garber.
Serving on the West Side School Board, Guy Garber convinced the board to install a special room to help support children with disabilities at the now-closed John Moore Elementary School in Saginaw. The idea was so successful that a second room was developed in Saginaw's Handley Elementary orthopedics room, receiving state-wide recognition.
Guy Garber's passion to help the next generation carried over into areas beyond the classroom.
Widening the Playing Field
Back in those days, Saginaw was home to a professional baseball team called the Saginaw Aces. The team flourished for a brief period following World War I.
A ballpark once existed near the west end of the Johnson Street Bridge. Kids would try to watch the game from outside of the park, but the view was less than ideal. Noticing the children's attempts to spectate, Guy Garber decided to help.
He funded construction along the left field foul line for a special grandstand for young fans. Deemed the "Kid's Roost," admission for these seats was only a dime. Children were able to enjoy the game, thanks to their new view.
When his son Ike – an avid and skilled tennis player – returned home to Saginaw after serving in the Marine Corps, Guy listened to Ike's passionate plea to create tennis courts for the community.
 "When I got home, I played lots of tennis," Ike said. "There was not a public tennis court in Saginaw. There was a tennis club, but you had to be a member. But anyone who was in town that couldn't afford to be a part of a private club, there was no place to play tennis. So I went to my dad and I said, 'You know Dad, tennis…it's a wonderful game and there should be a place here for people to play tennis.' So I said, 'Can we put some money out for a tennis court?'"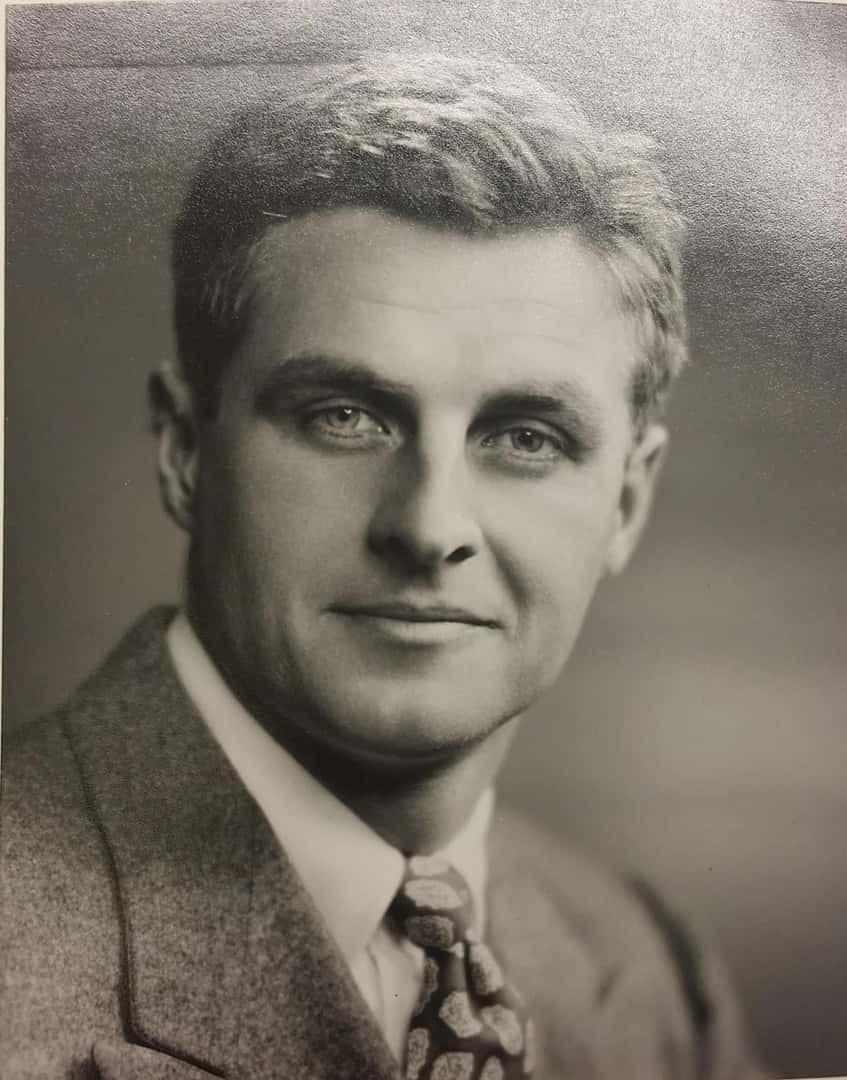 Guy "Ike" Garber
After consulting with the family, Guy Garber agreed to fund what are now known as the Garber Tennis Courts, providing the area with an opportunity to play the sport his son loved so much. The courts still exist off Ezra Rust Drive in Saginaw today.
Through his efforts and actions, Guy Garber proved that if there's a way to make an impact in the place you live and work, why not do it?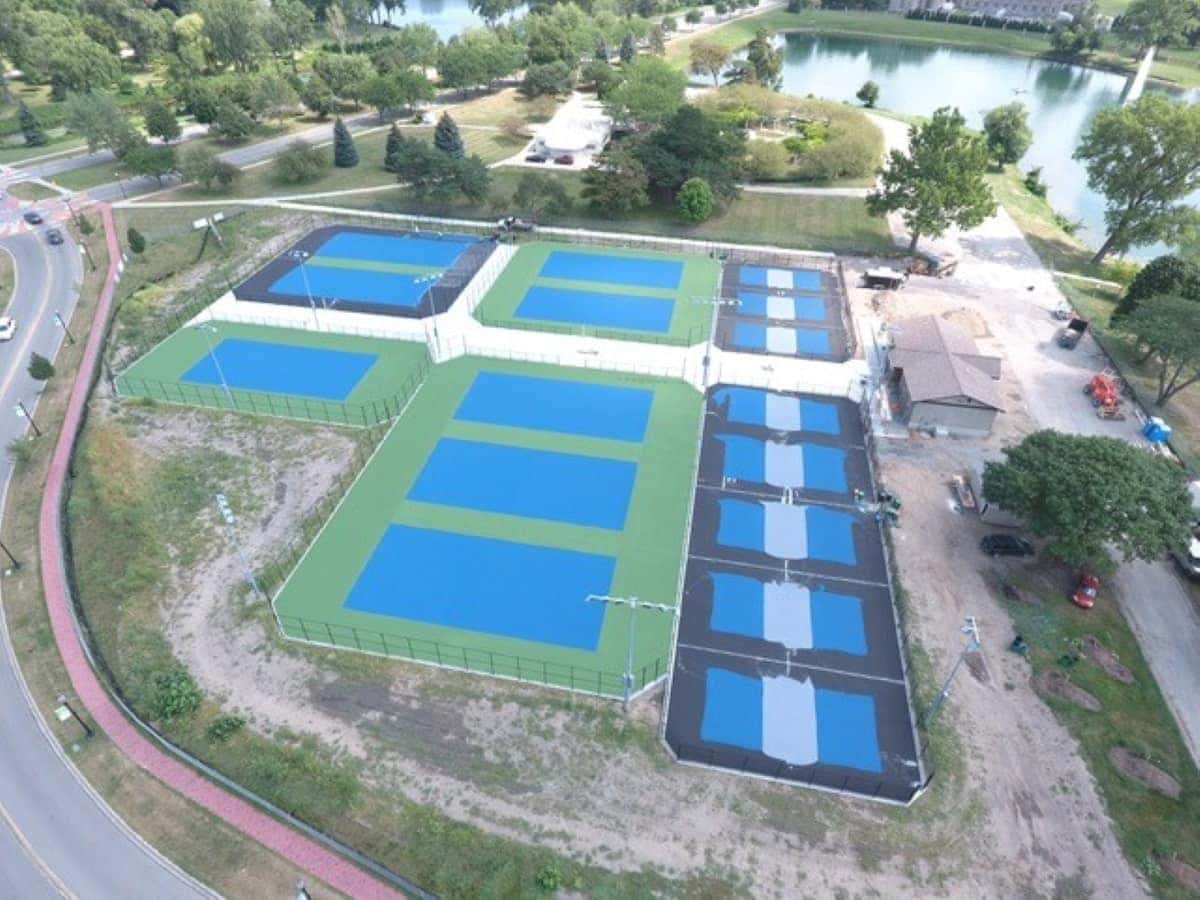 Garber Courts 2021 renovation project
Continuing the Legacy
Since the dawn of our organization's earliest days, Guy S. Garber deemed philanthropy an imperative pillar within our company.
Service – whether it is customer service within our businesses or serving the communities that surround us – remains a priority today.
But it is no coincidence that the pillar Guy Garber constructed decades ago stands strong as part of our service-oriented foundation.
Technically, the importance of philanthropy could have ended with Guy Garber's leadership…
But it did not…nor will it. Our philanthropic efforts live on, stronger than ever, as a point of company pride and importance.
How?
Two key components have helped add bricks over the years to continue Guy S. Garber's legacy of generosity and care for the community: leadership and teamwork.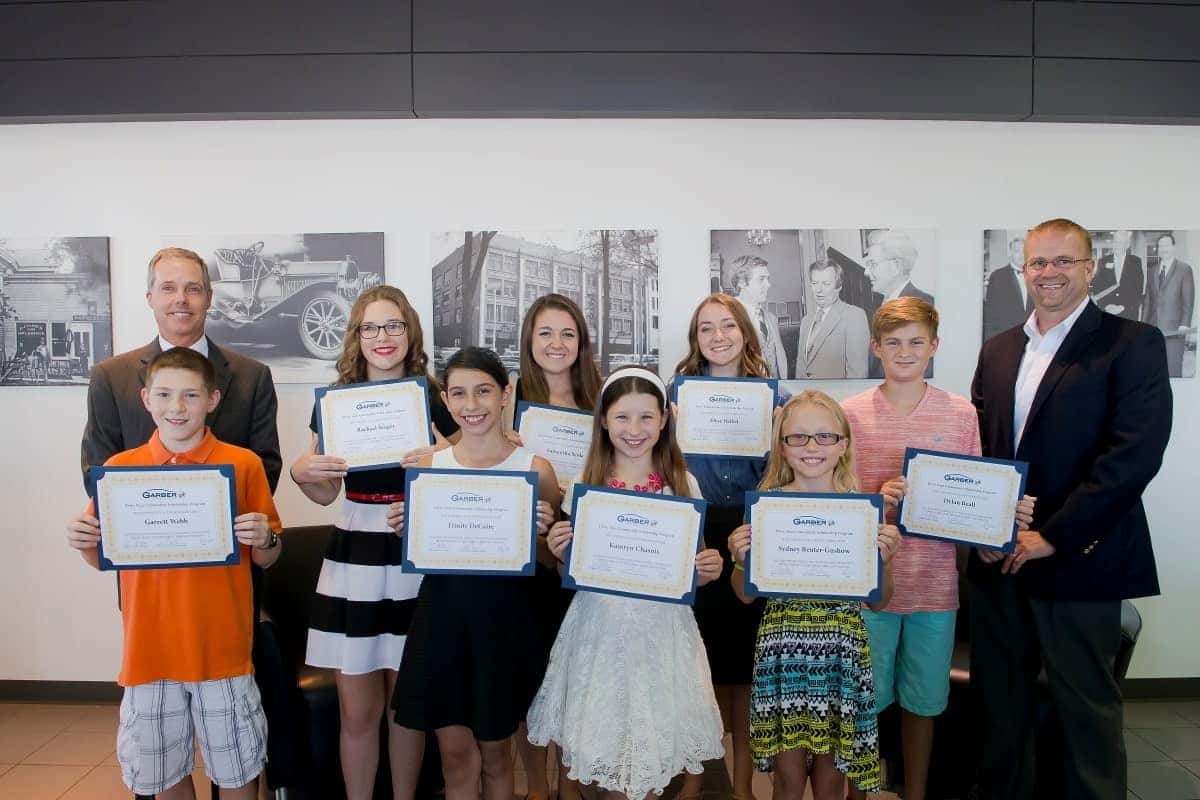 Garber Buick Drive your Community Scholarship Recipients – 2017
Leadership
Guy S. Garber did not just keep his love for community to himself. Instead, he shared it: instilling and inspiring a love for community within the next generation, including his son Richard J. Garber. He, too, passed this passion along to his son: our current president and owner, Dick Garber.
Since taking the reins as president and owner of Garber Buick in 1980, Dick Garber has made it his personal mission to continue to serve the community, carrying the baton his family passed to him many years ago.
The parallels between the Garber men's community-minded focus are easy to spot, once you look to their actions in leadership:
Guy Garber helped raise funds for the construction of the YMCA, while his son Richard later helped raise funds for its first renovation. Continuing what his family started, Dick – as the third generation – served as the Chair to the YMCA Capital Campaign in 2006 for its latest expansion and renovation. 
Currently, Dick serves as the chair of the Saginaw Society of Crippled Children: the very organization his grandfather championed all those years ago. He also served as Chair of United Way of Saginaw County and Chair of the Saginaw Chamber of Commerce…just as his grandfather and father did. 
As history shows in the letters written by numerous local organizations back in the 1950s, Guy Garber did not limit his generosity to one specific organization or cause. Just as his grandfather cast a wide net of care across the community, Dick Garber has participated in several major community projects over the years, each unique in focus and mission. 
He has served as chair for many organizations, including: The Temple Theatre Capital Campaign in 2011, as well as serving as the Chair of the Temple Theatre Foundation for several years; the CAN Council's Capital Campaign in 2014-2015, the capital campaign for Covenant Healthcare's Mary Free Bed facility in 2019-2020; and was regional fundraising chair for the Leukemia and Lymphoma Society of Michigan in 2018 and 2019.
They say it starts from the top down…and it's true. Dick Garber is not the only one with a philanthropic spirit. He continues to encourage our leaders and team members to support the communities we serve.
Dick Garber 2017 Lifetime Humanitarian Award Recipient as presented by Governor Snyder
Teamwork
If there's a chance for the company to give instead of take, Garber will choose to give, time and time again. 
Leadership helps set the tone…but one person can't do it alone. Taking large steps of impact takes many willing hearts and voices. As the community has grown over the last 100 years, so has the organization's commitment to making a positive impact.
Today, the company gives back over $1 million dollars annually to the region and dozens of employees serve on boards for local community and nonprofit organizations.  
Throughout our 23 dealerships across numerous states, members of the Garber team give back to their neighbors and local organizations and businesses, whether it's through time, talent, or resources. How Garber gives back looks different in each community: 
Hosting team photos in the dealership showroom for the local little league team. Putting paper butterflies on the wall as a way to raise money to help mothers who have lost a newborn. Helping coordinate a music festival. Repairing homes with Habitat for Humanity. Coaching after-school sports. Participating in "Jeans Friday" at work, then donating that money to local organizations.
The list goes on and on.
Here in Saginaw, many of the early philanthropic efforts of Guy S. Garber live on today. Garber team members give back to Camp Fish Tales, an accessible, barrier-free camp for children located between Linwood and Pinconning.
Similar to how Guy S. Garber built the baseball grandstand for children, the organization seized a unique opportunity to give back to the community by bringing OHL Hockey to Saginaw. The Saginaw Spirit is now playing its 20th season at the Dow Event Center in Saginaw.
Garber is also one of the many local supporters of the Garber Tennis Courts renovation project, which will bring an updated tennis facility and pickleball courts to the Saginaw community, continuing Ike Garber's original dream. Garber locations in the Great Lakes Bay Region in Michigan just finished their company campaign to raise funds for United Way of Saginaw County.
Our company is nothing without the support of our communities…which is why Garber will continue to give back to the communities we serve. Through the way he lived his life, Guy S. Garber has left a legacy that goes beyond business.
After all, home is where the heart is… and Garber's heart is in the places we call home.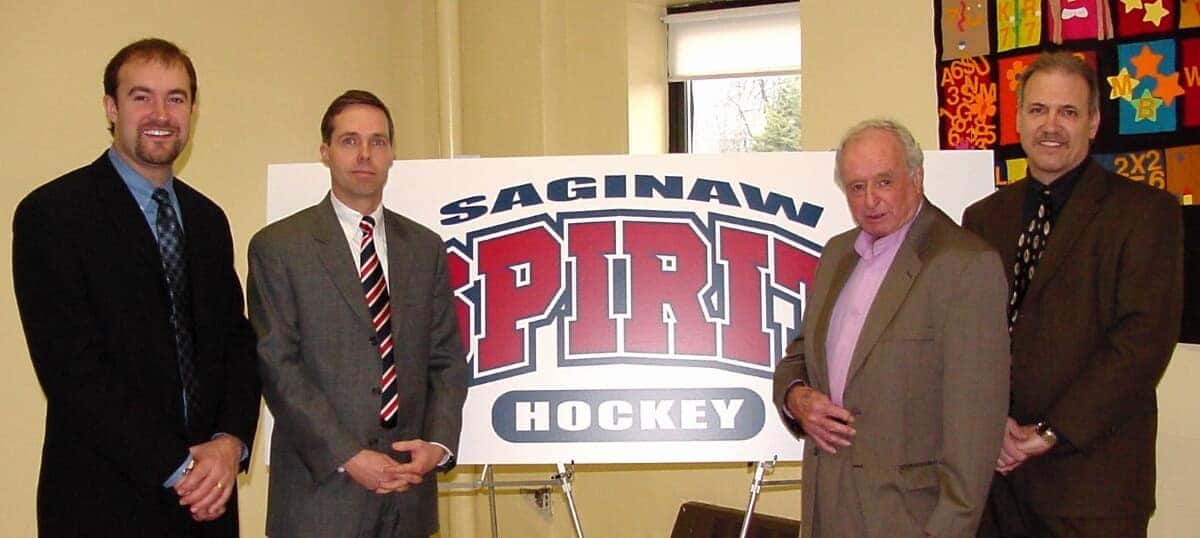 Saginaw Spirit team name revealed in 2002  From Left to Right: Costa Papista, Dick Garber, Wren Blair, Dennis Desrosiers